Altran and Red Hat latest to join 5TONIC 5G Innovation Lab
19 Apr 2018
New members get involved in developing and testing 5G services
Further support for 5TONIC's collaborative 'co-creation' approach
Two more companies have joined the specialist 5G mobile research and innovation laboratory in Spain called 5TONIC. Altran and Red Hat are the latest companies to become members of the 5TONIC initiative joining existing companies such as Telefónica, Intel and Ericsson.
---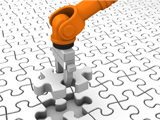 Hosted by its co-founder - research organisation IMDEA Networks Institute - on its campus in Madrid, and chaired by Telefónica, the 5TONIC laboratory has been designed to provide a vehicle for member companies to "co-create" and test breakthrough 5G services and solutions – focused on collaborating with other industries.
Welcoming the two new member companies, Director of IMDEA Networks and 5TONIC VP, Arturo Azcorra said: "We started the 5TONIC initiative because we felt the opportunities created by 5G touched on so many industries and were far greater than any one company could address. Within our facility, and in their work outside the laboratory, our member companies can come together to co-create innovative solutions and also work in collaboration with companies from vertical markets," he explained.
"Sectors such as healthcare, emergency services, manufacturing, and tourism have all been pilot projects, and I am sure that both Altran and Red Hat are going to make valuable contributions to our ongoing work and to the development of new projects," he added.
On behalf of Altran, Alfonso Martínez, COO Altran Spain, said: "Altran is proud to become a Board Member of 5TONIC, a consortium where innovation, cross-sector collaboration and research related to 5G, shake hands for the creation of the network of the future. The development of 5G technology will certainly have a key role in supporting and fostering the digital transformation of our economy and society. Next-generation networks have potential for hugely disruptive performance and capabilities. In such a challenging scenario, Altran will contribute not only with its extensive expertise in Telecoms and Mobile Networks, but also with its deep experience in industry sectors like Aerospace, Automotive, Railway, Defence, Finance and Energy."
For Red Hat, Santiago Madruga, director of Red Hat's Telco and ICT vertical in EMEA, said: "5G technologies are lining up to be an innovative part of the digital future and we are proud to help drive innovation forward in collaboration with 5TONIC. Organisations across industries rely on communications networks to deliver services and 5G networks have the potential to enable more innovative, scalable and agile applications and services for customers. Red Hat is excited to contribute to 5TONIC's 5G Innovation Lab and with a goal of helping to accelerate operators' transition to 5G and help provide an open, next-generation infrastructure."
The full list of member companies now participating in the 5TONIC 5G service development and testing project are its two co-founders Telefónica and IMDEA Networks Institute; and a further nine, member companies: Ericsson, Intel, Commscope, Madrid's Carlos III University, Cohere Technologies, Artesyn Embedded Technologies, InterDigital, Altran, and Red Hat.
Más información:
ABOUT 5TONIC
5TONIC was initiated by Telefónica and IMDEA Networks Institute with a clear vision to create an open research and innovation ecosystem laboratory in which industry and academia come together to boost technology and business innovative ventures. The laboratory promotes joint project development, joint entrepreneurial ventures, discussion fora, events and conference sites, all in an international environment of the highest impact. 5TONIC serves to show the capabilities and interoperation of pre-commercial 5G equipment, services and applications, by leading global companies in the 5G arena.
For further information contact:
E: Kevin(dot)taylor(at)robertsontaylorpr(dot)com
M: +447 850 858 291
For more information on Altran and Red Hat please visit:
Red Hat is a trademark or registered trademark of Red Hat, Inc. or its subsidiaries in the U.S. and other countries.