Now 5TONIC is making clothes smarter!
06 Apr 2018
Don't worry, 5TONIC has not branched out into fashion design. However, one test this laboratory of 5G excellence co-founded and hosted by IMDEA Networks is running in its research premises involves a partnership with Madrid's emergency services team to put smart sensors into a tee-shirt that could then monitor the vital signs of people suffering from known, life-threatening, conditions.
---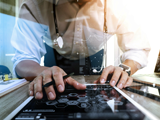 The smart sensors could act as an early warning system to communicate vital information to the emergency services and speed up response times if the patient's condition began to deteriorate.
Telecoms.com became interested in this initiative and requested us to write an article for their website about how the sensors could work, and why 5G technology was particularly relevant for such a service.
The article explains how 5G features such as network slicing can reserve parts of the network for such emergency services applications, and also how its capability to utilise device-to-device communication could help a handset connect to the internet and get an emergency signal out from a location with no network coverage.
You can read the full article here.