Excellence in Science and Innovation by adopting the concept of Responsible Research and Innovation
30 May 2018 -

1:00pm

to

2:00pm
Ponente(s):
Antonia Bierwirth, Gestor de proyectos, Tecnalia Research and Innovation (TRI), Madrid, España; Evaluador propuestas H2020, Comisión Europea
Lugar:
MR-1S1 [Torres] & MR-1S3 [Quevedo], IMDEA Networks Institute, Avda. del Mar Mediterráneo 22, 28918 Leganés – Madrid
Organización:
NETCOM Research Group (Telematics Engineering Department, UC3M); IMDEA Networks Institute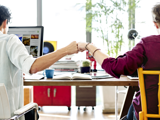 NewHoRRIzon is a project that aims at further integrating Responsible Research and Innovation (RRI) in the research and innovation systems on national and international levels. The concept of RRI is an approach which intends to bridge gaps between science, research and innovation communities and society at large by fostering more inclusive, anticipatory, open and responsive research and innovation systems. In this frame, multiple stakeholders (from research, business, policy making, education and civil society) are involved in research and innovation on the project and system level to better align its processes and outcomes with the values, needs and expectations of society. A first big step was the operationalisation of RRI into the following six key elements: ethics, gender equality, governance, public engagement, science education and open access.
About Antonia Bierwirth
Antonia Bierwirth earned her PhD in Innovation Management at the Autonomous University of Madrid; furthermore she holds degrees in Business Administration and Political Sciences. Since 2011 Antonia works at Tecnalia Research and Innovation. Tecnalia is the first privately funded Applied Research Centre in Spain and one of the leading such centres in Europe. Responsible Research and Innovation is currently the main research area of Antonia, she is very interested in governance settings, including institutional changes, as well as in innovative and creative techniques for public engagement and empowerment. Within Tecnalia Antonia acts as a RRI advocate and trainer, consolidating the use of RRI methods and standards across the different departments and stakeholders. Her references in RRI-related projects and activities include: (1) ProGReSS Project, responsible for the involvement of industry partners in RRI and for the design of inclusive business models (2) HEIRRI Project, External Expert of the Business and Entrepreneurship Advisory Board Project (3) NewHoRRIzon Project: Organization of three Social Labs that co-create tailor-made pilots and stimulate the uptake of RRI in FP9 (4) I AM RRI Project: Investigate the Additive Manufacturing innovation value chain, identify openings for RRI and draft guidelines to initiate institutional changes in different industrial settings. Antonia is an experienced ethics and scientific evaluator of the EC and she has participated in the evaluation of a number of projects in the area of Science with and for Society.
Este evnto se impartirá en inglés